CL Racing F4S AIO designed by Cheng Lin | New for 2017.
If you like the latest and greatest in technology, this Flight Controller is it!!
The CL Racing Flight Controller is designed to use ALL of the features of Betaflight. Way ahead of its time, this CL Flight Controller is designed to work with BetaFlight 3.2 (when released)
CL Racing 4S New Features
Built-in 5V BEC 2A
Built-in User Selectable 9V or 5V 2A Filtered BEC for Camera and VTX (reduces video noise aka static)
Dedicated Hardware inverted to connect to UART3 for SmartPort Telemetry
6 layer 2oz Copper PCB
Dedicated Camera Setting control pads along with camera power signal pads
4-1 ESC Socket with External Current Sensor input
Addded TX1 and TX6 Pads
This Flight Controller is the same FC we use in our in house builds, class room builds, and even one of local race chapters spec this Flight Controller - its THAT good!!! Grayson Hobby works DIRECT with Mr Lin so we are just not a reseller, we are builders, fliers, and provide input to Mr Lin.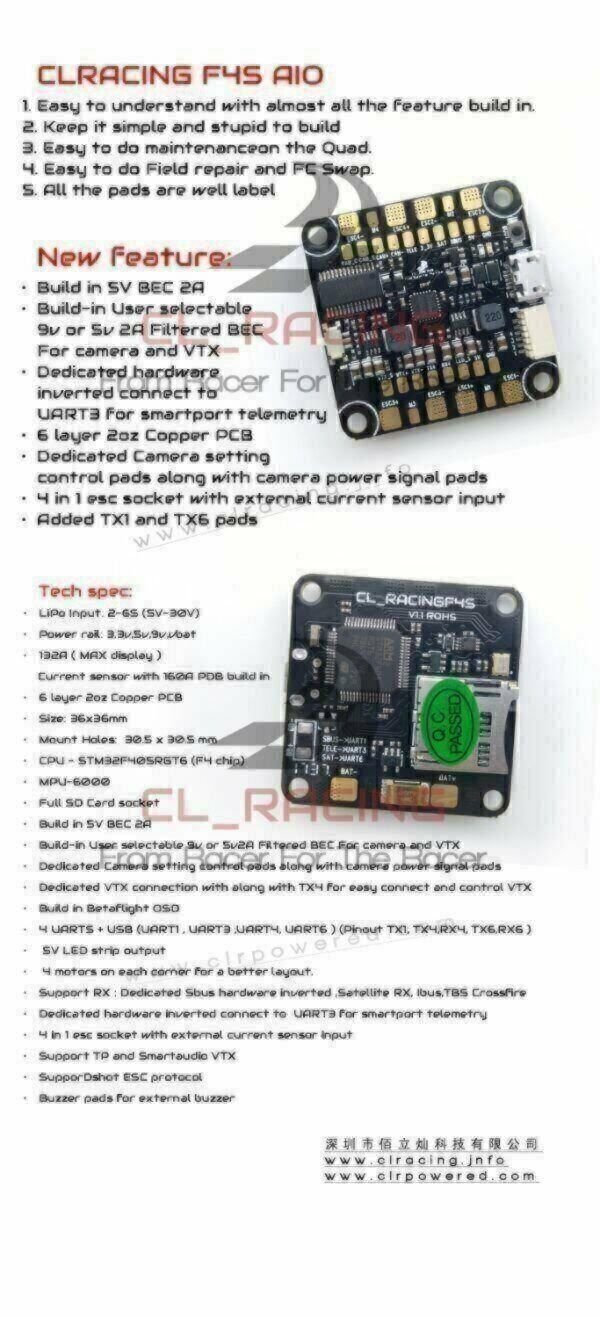 cl_racing, cl-racing, fc, betaflight,
Customer Reviews
Watching the Ox Build.. So Far So Good with my 1st build! Thanks for the videos. (Posted on 11/19/2017)
The flight controller arrived sooner than expected and in working order. No issues with product or service . I will look to these guys for future drone needs (Posted on 10/21/2017)
I enjoy the simplicity of this FC and all of its features. This works well all the way from beginner stage to intermediate but if you're trying to push your quad as hard as it can go you're better off with a separate PDB. (Posted on 10/14/2017)
The product is A+ Dont fall for the hype of others. this is the best. (Posted on 10/7/2017)
The Best (Posted on 9/23/2017)
The diagram is worth its weight in gold however the flight controller Works very well with the latest version of betaflight. I am still learning on this entire hobby but this cl racing made it much easier going through the learning curve. (Posted on 9/3/2017)
I have built five quads each has a different flight controller and this by far is the best flight controller I have used I combine this with the matek VTX and it is awesome. I will slowly switch over my other racers to this fc (Posted on 9/3/2017)
I have built five quads each has a different flight controller and this by far is the best flight controller I have used I combine this with the matek VTX and it is awesome. I will slowly switch over my other racers to this fc (Posted on 9/3/2017)