Diatone GT-M2.5 2.5 inch X - Titanium - BNF (XM+)
Discontinued - Please click here for the latest versions of the diatone quads
Why Purchase from Grayson Hobby? Grayson Hobby is in constant contact with the designer in which we collaborate to bring you the BEST tuning. We do not just sell, we fly, build, configure, and repair our own FPV Drone racers so when something comes up, we have the experience, knowledge, and staff to help you get back up in the air. Stay Tuned for upcoming how-to videos for this and all new Diatone Products.
Grayson Hobby has custom soldered XM+ (FRSKY) receiver. We even go that extra mile and - FLASH - the FrSky receiver with the latest firmware before we solder up the quad so you can enable RSSI on your OSD. We feel this is extremely important, thats why we go the extra mile and flash each receiver before we solder up the quad

What is RSSI? Simplified, it will display your receiver strength in your OSD keeping 'fail safes' to a minimum.
Please note final receiver installation will be required before flying. Everything is soldered, however, the receiver needs to be mount and the antennas need to be secured in a manner not to fall into the path of the props.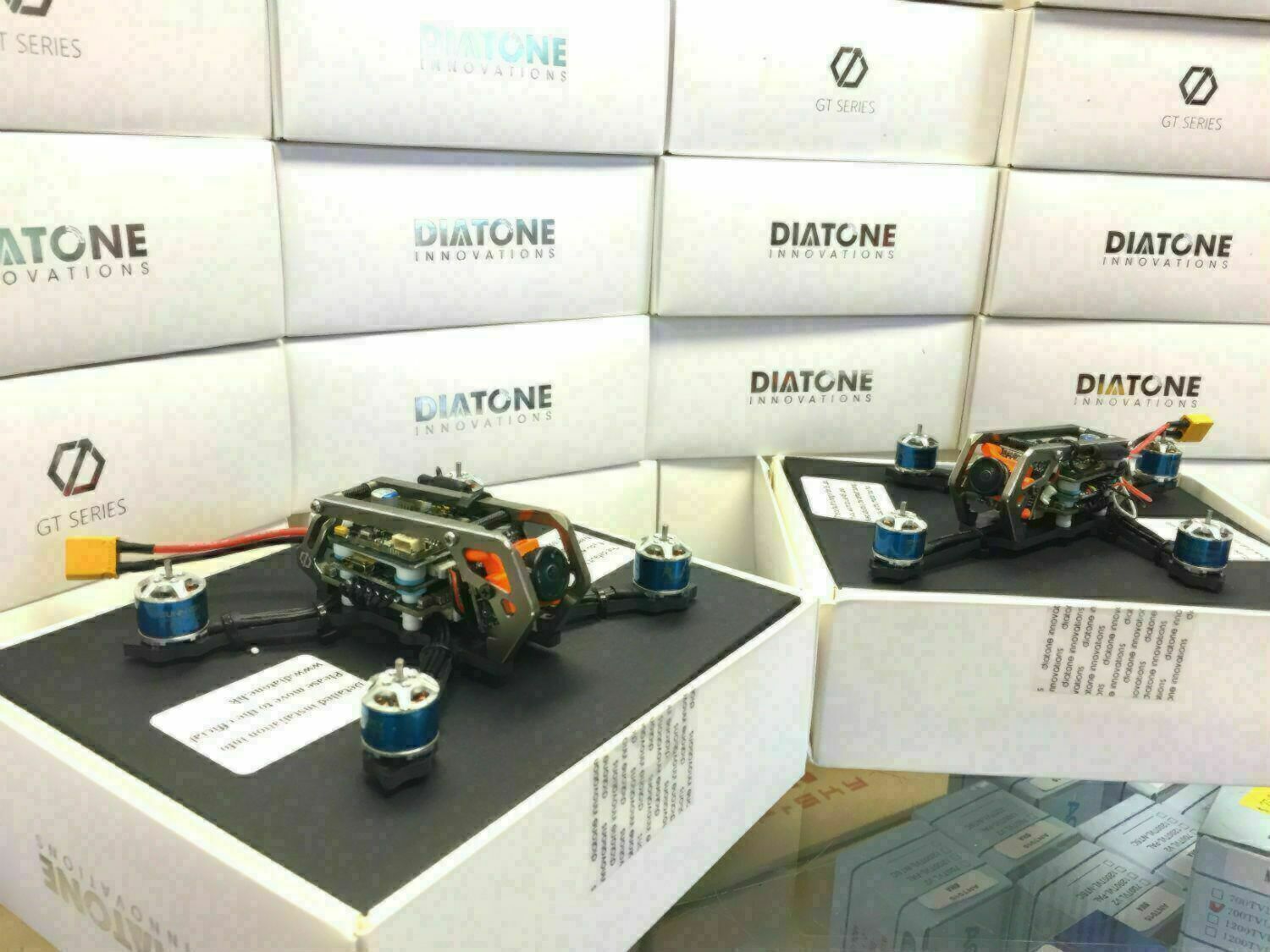 Specification:
Brand name: Diatone
Item name: 2018 GT-M2.50
Color: Titanium
Fury F4 8K flight controller: MPU6000 Six-Axis; OSD; 16M Flash; 5V 2A BEC;
Camera: Runcam micro swift
VTX: TBS unify 5V Version
ESC: F25 20A Current Sensor 3-4S
Motor: Edge racing 1106 6500KV
Propeller: 2.5 inch

Please note:
The BNF (Bind and Fly Custom) version comes without battery, charger, or remote control.

Package included:
1 x 2018 GT-M2.50 Grayson Custom FPV Racing Drone
Recommend Batteries (From Video)
---
PIDS & Battery Selection
The default tuning is for 3S Lipo. If you want to use 4S (14.8v) you will need adjusting the default betaflight tuning. Without tuning betaflight and running on 4S, will cause the motors to run too hot and burn up - voiding the warranty
For the latest Updated PIDS,
click here to download
The Diatone Diatone GT-M 2inch Plus - Titan used the SunnySky EDGE1104 6000KV /4S, the best results for 16.8V/10.8A/205g efficient collocation of 20303 propellers, 4S 43.2A (total current) under the maximum 1:7.45 thrust-weight ratio.
You may also be interested in the following product(s)
Regular Price: $15.99

Special Price $14.99

Regular Price: $10.99

Special Price $9.99
Customer Reviews
I like everything about this micro quad. All quality components, flies amazing right out of the box, so compact and easy to carry to launch site, quiet and maneuverable enough to fly in small parks, powerful enough to fly in wide areas very fast. This thing is great. (Posted on 11/30/2018)
This little quad is a beast. It's a 5" quad in a 2.5" frame. Diatone always goes the extra mile in quality and the GT-M2.5 is no exception. The only thing that beats this bad boy is the customer service at Grayson Hobby. These guys won't let you down and they do it in lightning speed and with helpful videos. (Posted on 11/24/2018)
great little quad & tough as nails. just make sure your have a high C rating on your batteries (Posted on 10/9/2018)
Seriously, all I think about is that I want to go fly this thing. I built an FT Electrohub years ago and it never really performed. Then earlier this year I got an Inductrix FPV+ and had some fun with that but it was limited compared to what I saw people doing on YouTube so I wanted more. I wanted to have the convenience of flying whatever I have in my 1/2 acre backyard so I couldn't go 5 inch. After watching the Grayson review of this 2.5 inch Diatone I was sold. It's a great step up from an inductrix. I was considering the baby hawk but the TBS Unify included here made the decision easy. Following Joshua Bardwell's Betaflight 3.4 setup video made getting this up and running easy. I did have a problem with voltage and current sensing displaying in the OSD but an email for support to Grayson had it fixed in about 24 hours. It does everything a 5 inch will do and it does it in my back yard. I love it!! (Posted on 9/12/2018)
Grason Hobby was great to deal with. After my order I realized I needed a FlySky compatible receiver. Will responded to my ticket and voila my receiver got swapped and delivered next day ..Super easy setup with my Turnigy Evolution ..Flying this quad is sooooo much fun .. (Posted on 8/18/2018)