Diatone GT-M2.5 2.5 inch X - Titanium - PNP
Discontinued
Why Purchase from Grayson Hobby? Grayson Hobby is in constant contact with the designer in which we collaborate to bring you the BEST tuning. We do not just sell, we fly, build, configure, and repair our own FPV Drone racers so when something comes up, we have the experience, knowledge, and staff to help you get back up in the air. Stay Tuned for upcoming how-to videos for this and all new Diatone Products.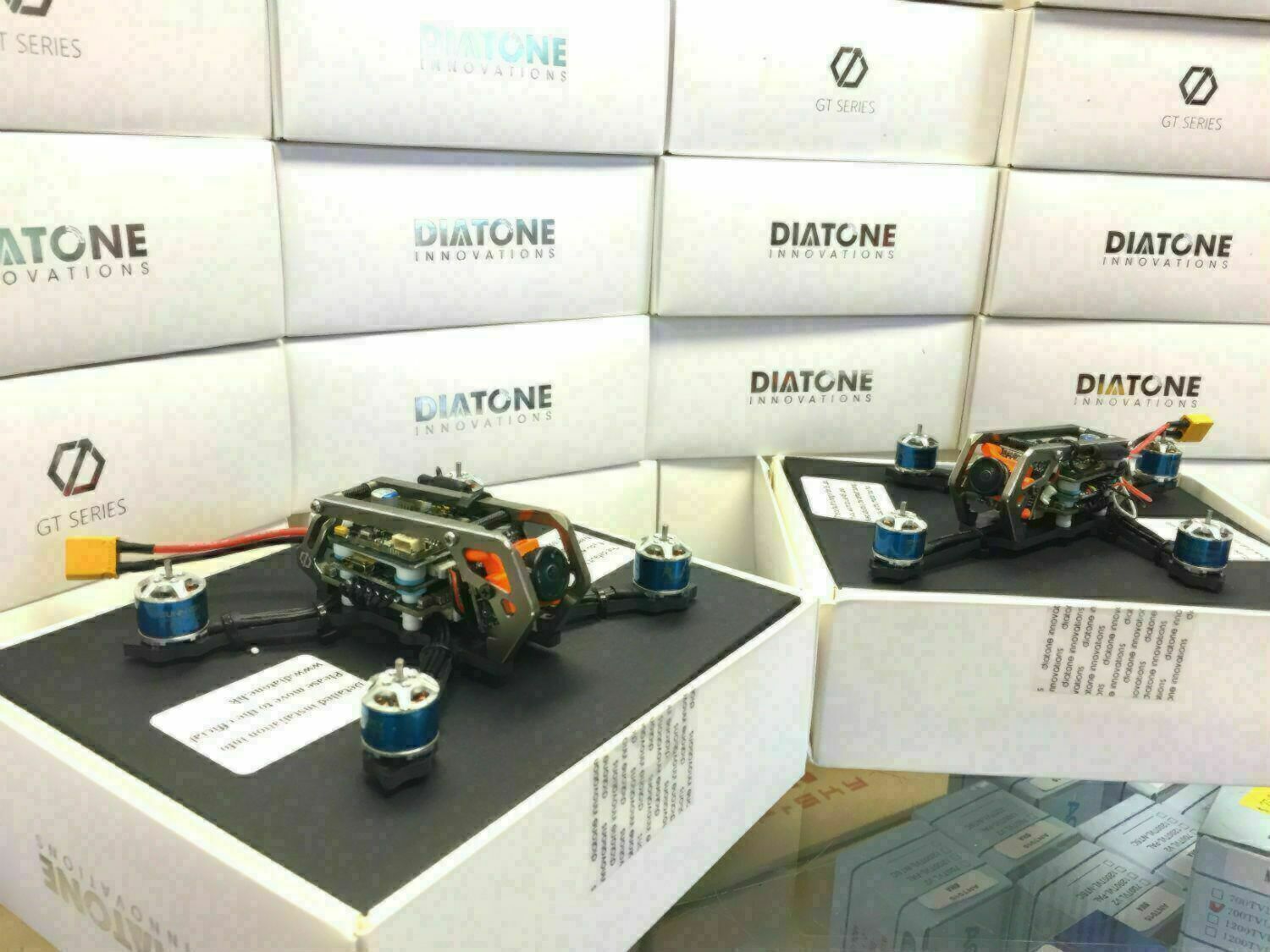 Specification:
Brand name: Diatone
Item name: 2018 GT-M2.506
Color: Titanium
Fury F4 8K flight controller: MPU6000 Six-Axis; OSD; 16M Flash; 5V 2A BEC;
Camera: Runcam micro swift
VTX: TBS unify 5V Version
ESC: F25 20A Current Sensor 3-4S
Motor: Edge racing 1106 6500KV
Propeller: 2.5 inch

Please note:
The PNP (Plug and Play) version comes without battery, charger, receiver or remote control.

Package included:
1 x 2018 GT-M2.506 FPV Racing Drone
Recommend Batteries (From Video)
---
PIDS & Battery Selection
The default tuning is for 3S Lipo. If you want to use 4S (14.8v) you will need adjusting the default betaflight tuning. Without tuning betaflight and running on 4S, will cause the motors to run too hot and burn up - voiding the warranty
For the latest Updated PIDS,
click here to download
The Diatone Diatone GT-M 2inch Plus - Titan used the SunnySky EDGE1104 6000KV /4S, the best results for 16.8V/10.8A/205g efficient collocation of 20303 propellers, 4S 43.2A (total current) under the maximum 1:7.45 thrust-weight ratio.
You may also be interested in the following product(s)
Regular Price: $15.99

Special Price $14.99

Regular Price: $10.99

Special Price $9.99
Customer Reviews
If your in this hobby, you have several quads, as do I and this is my first betaflight quad. I mainly fly for fun and have a Mavic air also but this thing is on another level. It doesn't "punch out"....to me it "jumps out"....I don't have a gigantic back yard but on Angle mode this thing is pretty stable and fairly easy to control. I am only running to 2s-LiHV for now till I get use to this thing and get somewhere with some space(hopefully tomorrow). I have a Spektrum DX6 with this on a Spektrum 4649T and it mounts nicely to the cage on top. I had wiring problems at first due to wiring to the wrong UART port. Grayson Hobby responded to all my pestering requests as far as help with this. I can't sat enough about there help, they are awesome, thanks guys. If your gunna go Spektrum or your setting up one of these for the first time, take your time and make sure you use the correct wiring diagram. https://www.rcgroups.com/forums/showthread.php?3067724-Diatone-GT-R90-V2-with-Spektrum-wiring is the URL with the right diagram. As far as product quality, this thing is very high quality and well made. I had got a UVify OORi at the end of August and was very disappointed when stuff stopped working after a couple of mediocre crashes. I've yet to really wack something with this because I've only flown it once but I have enough experience to tell this is built like a tank (compared to the OORi and thats really why I bought it). If you have had a couple quads and your halfway experienced, this thing is well worth the longer setup. I was so inpressed and happy with it after the first flight, I had to come inside and write this. It's the BEEEEZZZ KNEEEEEZZZ (Posted on 10/28/2018)
I love this quad! It's fast nimble and quiet. I'm new to small footprint freestyle quads so naturally I have been doing a bunch of reasearch. These guys make content that is useful. Their product reviews are honest and informative. The reason I purchased and will continue to purchase from Grayson is for this reason. Their prices are the same as other outlets but they show they care about the customer. A+ guys. Keep it up!! Oh, also I just purchased another GT- M2.5 to have as a backup as this quad is so much fun. (Posted on 10/6/2018)
Awesome quad. Fast, nimble, and great video quality and range. Grayson Hobby delivers quality products fast and provides excellent support. (Posted on 7/16/2018)
This thing is great. Feels like a regular 5" but you can pretty much shoot any gap you want. It definitely helps build your confidence. Batteries and props are also cheaper which is a bonus. Just buy it if it's even on your radar. (Posted on 7/1/2018)
This little beast is incredible. No complaints from my end. (Posted on 6/19/2018)
You can look at my review of the 3" model and understand why I bought this one too. The 3" is a little fast for proximity freestyle so I got this one for smaller parks. In really tight spaces you can even run a 2s 650. Even then it still has enough grunt with these motors to pull off power loops and recover just fine. With a 3s it is the fastest 2.5 I own including custom builds. Factory tune is fine but I did retune mine as it wears a SQ12 HD camera all the time. Due to the added weight I had some minor propwash. That's on me as 20 grams on a micro makes a big difference. Just buy it already. I own many many quads and this and the 3" go everyrime I goto fly. (Posted on 6/18/2018)