Diatone GT R90 V2.2 "RABBIT" - Plug and Play
(click here for the FrSky BNF)
Yes if you thought the GTR90 V1 was totally awesome! The V2.2 is even better!
What is the difference between the V1 and V2
New Flight Control Fury F4OSD 8K
Flight Controller Stock now uses nylon screws
Update Cage Material - no longer 3D Printed
Integrated Current Sensor - no longer on the XT30 connector
RunCam MicroSwift
Why Purchase from Grayson Hobby? Grayson Hobby is in constant contact with the designer in which we collaborate to bring you the BEST tuning. We do not just sell, we fly, build, configure, and repair our own FPV Drone racers so when something comes up, we have the experience, knowledge, and staff to help you get back up in the air. Stay Tuned for upcoming how-to videos for this and all new Diatone Products.
Recommend Batteries (From Video)
PIDS & Battery Selection
The default tuning is for 3S Lipo. If you want to use 4S (14.8v) you will need adjusting the default betaflight tuning. Without tuning betaflight and running on 4S, will cause the motors to run too hot and burn up - voiding the warranty
For the latest Updated PIDS,
click here to download
GT | R | 90 Specifications
Flight Controller: Fury F4OSD 32K
Gyro: MIC20689 32K Six-Axis
OSD: Betaflight OSD
Blackbox: 128M Flash On board
On Board BEC: 1A 1.5 Burst 5V BEC
External Sensor: Current Sensor incorporated in the XT30
Camera: MicroSwift Runcam
VTX: TBS Unify 5V 25/200/500/800
ESC: F15HV 4S BL Heli_S ESC, Dshot 600
Motor: EDGE Racing 1104 6000KV

This version of the GT90 is a Plug and Play - PNP - which comes with white propellers, white motor / prop guards, and white antenna mount. If you prefer the colored version please purchase the color accessories - need to order 2 for a complete set
The PNP (Plug and Play) version comes without battery, charger, receiver or remote control.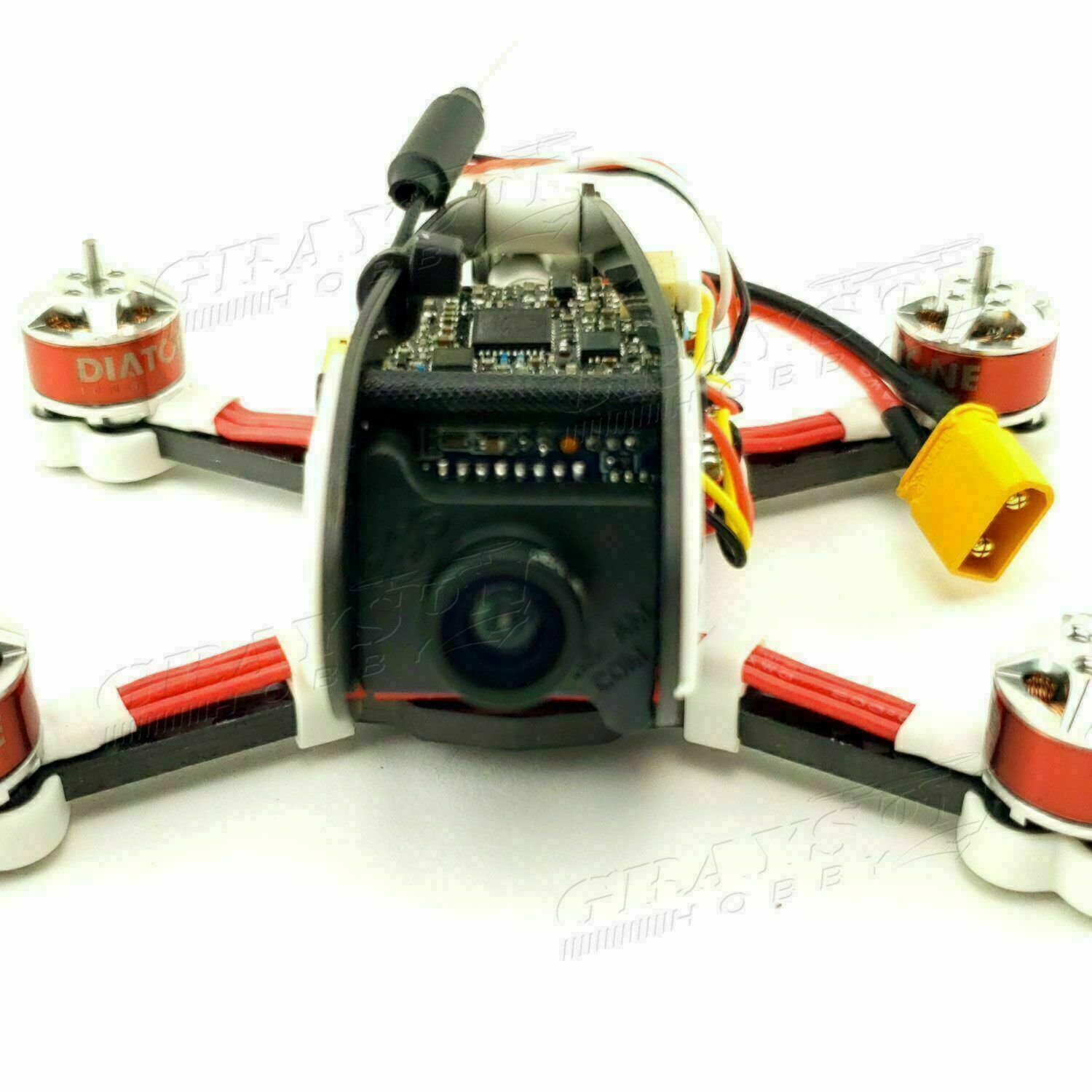 Why Diatone
Under the DIATONE brand, DIATONE Series GT, the high-performance drone named R (Racing Sport), is also the highest version of the current GT series. The first generation of GTR models, the choice of advice configuration is very rigorous, meanwhile, our strategic partners ( Sun sky, Fury and TBS team) join, will make the overall performance more powerful. The R90/207 uses the common type C-Beams in appearance. When overlooking, C-Beams shows a gradual narrowing shape and feels a slimmer back. The outer side of the camera has two replaceable oval decorative parts, not only seems naughty and lovely but also protect the side panels from damage. Color accessories are also used in C-beams, Motor Mount and prop protection. A variety of colorful combinations that shows yourselves style. R207 small and cute shape is also a good gift.
The GTR90 has an ultra-low gravity design and 2017GT MVS, there was another design breakthrough: FC&ESC Mount (in after referred to as FEM).
FEM is a collection of FC&ESC&TBS UNIFY as one of the design, using the M3/20mm assembling-hole distance without the use of auxiliary tools, TBS can also be installed, compatible with FC and ESC, to achieve the two layer structure, but the total height of only 20mm.
• The installation of electronic devices for mini models is not easy, but FEM makes installation easy.
• The use of advanced laser 3D printing technology, high dimensional accuracy.

The resin material used for 3D printing has the certain elasticity and can reduce vibration when being impacted, and the electronic equipment is not easy to be damaged.
FEM uses the same m3/20mm mount size as the fight controller. It can be installed directly without modification.
Since TBS UNIFY doesn't have an available fixed position, it can't be installed by screws, and not allow using glue bonding way in producing or usage mode.
Therefore, we adopt a fixed position design to limit TBS UNIFY movement range. TBS can be fixed after inserting, and no other tools and accessories are needed during the assembling process, so it's very convenient to install.
FEM applies to the most M3/20mm specifications of FC and ESC, 3D printing screw length of 13mm, most of the two layers of flight controller can be properly installed and the total height of FEM is only 20mm, applicable to any type of model. The resin material used for 3D printing has a certain elasticity and can reduce vibration when being impacted, and the electronic equipment is not easy to be damaged.
The Awesome Camera (the heart of FPV)
As the production model that uses TBS VTX, G1 + TBS's combination has the best performance.
Smaller Volume: 19mm*19mm*19mm
Lighter weight: 5.0g (excluding accessories)
Larger voltage range: 5-26V
Image sensor: 1/3" SONY Super HAD2 CCD
Horizontal Resolution: 600 TVL
Lens: 2.3mm (M8) FOV 130
Signal System: PAL
S/N Ratio > 60 dB
Electronic Shutter Speed: 1/50-100,000; NTSC 1/60-100,00
Min. Illumination:0.01Lux@1.2F
Current: 12V@60mA/ 5V@130mA
Team BlackSheep
Operating Voltage: 4.5 – 5.5V
Supply Current: 600mA
Operating temperature: watch for normal airflow
Audio carrier Frequency: 6.5 MHz
Video Input Impedance: 75 Ohm
Weight: 5g (with SMA, without antenna)
Antenna Connector: RP-SMA Female socket with screw mounting holes
Video Format: NTSC/PAL
Output power: 13dBm (25mW), 23dBm (200mW), 29dBm (800mW*)
*HAM License is required for operation on HAM channels, and HAM power levels! The VTx ships with only legal channels enabled, please consult the manual on unlocking procedure
Fury F4OSD 32K (Flight Controller)
Specifications
6-Axis: ICM20689 (High-Speed 32khz gyro)
Flash 16m
OSD: AT7456
BEC 5V 1A (Burst up to 1.5A)
Input 2-4s Lipo (please note 4S will need betaflight tuning)
Size 30 x 30 x 5.6mm
Mounting 20mm / M3
Weight 3.5g
AMAS XT30 & CURRENT METER MODULE
See your amp draw in real time
PLUG BRAND: AMASS
GOLD PLATING: YES
RATED VOLTAGE: 4S (16.8V)
CONTINUE CURRENT: 30A
BURST CURRENT: 50A (15S)
WEIGHT: 17g
F15HV DSHOT600
INPUT VOLTAGE: 2-4S (7.4V – 16.8V)
CONTINUE CURRENT: 15A x 4
BURST CURRENT: 20A (10S)
BEC: NO
MCU: EFM8BB21
SIZE: 30 x 30 x 5mm
MOUNTING: 20mm/ PHI 3mm
WEIGHT: 6g

The Diatone GTR90 used the SunnySky EDGE1104 6000KV /4S, the best results for 16.8V/10.8A/205g efficient collocation of 20303 propellers, 4S 43.2A (total current) under the maximum 1:7.45 thrust-weight ratio.
You may also be interested in the following product(s)
Customer Reviews
Very happy fly awesome (Posted on 9/30/2018)
Very small. Frame is smaller than my Torrent 110. Awesome Flyer tho. D-Shot is very smooth, and this thing Screams pretty good for its size! VTX and OSD are top notch and make life easy. I installed a Long Bow rcvr to run with my Spektrum DX9, and it works great so far. The Grayson Hobby videos were very helpful as well. Overall, Im very happy with my Purchase... One Caveat though. Grayson Hobby is hard to reach by phone. I always got the Answering machine. Also, I did not receive an e-mail response to to a question prior to my purchase. Take this for what it is worth. My guess is that they are probably overwhelmed with these type of questions. Do your own research.Google is your Friend! (Posted on 9/22/2018)
Everything came as expected in the timeframe for packing and shipping to me. For the product itself, it is very solid and functions like a bigger one for its size. The only thing I would change is the placement of the receiver. Getting everything setup, the 2 sided tape melted onto the TBS vtx. I feel there could be a better way. The Buzzer is also included but there was not good place to put except behind the Camera which is a tight fit. although I have read you could setup the escs to beep but I am not familiar with do that so the buzzer is the next best thing. All in all this is a very solid product and would recommend this to anyone. (Posted on 7/6/2018)
CAME WITH LONGER PROP SCREWS AND BUZZER THAN V2.0 ONE ISSUE I HAD WAS THE WIRES SOLDERED TO THE FLIGHT CONTROLLER ,INSULATION ON THE WIRE WAS TO SHORT AND SHORTED THE RECEIVER
WORKS GREAT AFTER FIX (Posted on 5/30/2018)
With the Emax Avan 2 in quad blade props, this thing handle more like a 5in quad than my 5in quad. 3s gives plenty of power and a 550mah battery gives enough flight time ~5mins while maintaining superb agility! (Posted on 5/26/2018)
This is NOT a toy grade drone guys. It's an excellent flying Micro. Great for smaller park fields and totally a barrel of fun. Not to mention a super sexy design! (Posted on 5/8/2018)
Great quad but always do a check of every thing before you fly one of my motors were reversed so I had to go into bl heli and reverse it not a big deal but if your a new pilot and don't know it could be a problem (Posted on 4/26/2018)
A wicked fun little quadcopter! (Posted on 4/25/2018)
It flies like a 5 inch. My only problem are the prop screws. They are too short! I was able to fly without the prop screws, but I ended up losing one of my props after using the anti-turtle mode to flip it. Can I get the appropriate prop screws or at least let me know what size screws I need to buy? (Posted on 4/16/2018)
I haven't had the chance to get this little guy in the air yet. I'm waiting on delivery of my Horus X10 and receiver from Grayson Hobbies. I'll update this review after i get in the air. (Posted on 4/14/2018)
Perfect (Posted on 4/13/2018)
Perfect drone for the next step up for us from a QX90c. We fly in a smaller park so these micro sized are perfect! Works great for us on the 200Mw VTX setting. Fast, Highly maneuverable! (Posted on 4/13/2018)
I am increasing my review from 3 stars to 4. The motors were not the problem as originally reported. The problem is in fact a yaw twitch caused by noise in the gyro data. Setting the "Yaw LPF" in Betaflight to a value of 60 has successfully filtered out the noise and eliminated the twitch. Perhaps these small high KV motors are generate more vibration than their 22xx counterparts. The FC is mounted with lots of vibration dampening, but maybe this could be improved as well. (Posted on 4/13/2018)
Wonderful service.. I had back ordered the little beast and when it arrived I got notified and they shipped it with no intervention on my part. (Posted on 4/10/2018)
This little Quad Rocks! Waited awhile for the V2 to come out. Well worth the wait. Ordered it as BNF with FRSKY XM installed. Will did an outstanding installation, as usual. Grayson Hobby did XM install and had it shipped within a couple days of getting it in stock. Once tuned to (with expert advice from Will), this GT R90 flies "buttery smooth" and very much lives up to its hype and Diatone reputation. Also, the Longbow 450 mAh 80C batt's I also purchased with it from Grayson Hobby are an outstanding fit. Excellent product, Outstanding Grayson Hobby Support (again). Thanks! Happy Flying (Posted on 4/9/2018)
The video looks awesome and is clear at long range. The FC provides all of the same features as a full-size model, including OSD and SmartAudio. However, one or more of the motors exhibits random twitching. I am an experienced FPV Pilot, and even after tuning this did not change. I have ordered replacement motors, because I know this microquad could be perfect, but this kind of thing should have been identified during manufacturing. (Posted on 4/8/2018)
As always, Will and Basil shipped this ridiculously fast and made the Spectrum rx install easy work.

The machine itself is a nice improvement although I still enjoy the V1. May try some 4 blade props vs the 3 blade hulkies as they seem to work pretty hard. Also may try a RHCP micro antenna just to see how good of video I can actually pull from this guy. Great purchase, flies great with minimal set-up and the support is ALWAYS there. Thanks again guys (Posted on 4/7/2018)
I have been flying the V1 of this model and just received the Diatone GT R90 V2. This little KWAD is packed with upgrades from the first model and in my opinion it's well worth the purchase even if you have the earlier version. Grayson does a great job pointing out most of the upgrades, so I want to highlight the change in video quality due to the capacitor they have added - yes like it's lager 3in counterpart the GTR90 V2 also comes with an added capacitor and it's wonderful! For me, high video quality is a priority simply because of the impact it has on my overall flight enjoyment.

Also, I want to point out that the price offered by Grayson is the same offered by the large international shops with only an online presence, and when you add in the accessibleness (not a word? Should be!) of the Grayson staff to aid in questions and support, the value of this product only increases. Yesterday I was able to speak with Will over the phone who answered all of my questions (it's like talking to an FPV celebrity!) This support is essential for me, being in Vermont we have very few hobby shops in our state, and exactly 0 hobby shops that deal in FPV. After he answered all of my questions, he still had time to stay on the line and share in our collective enthusiasm for the FPV experience. Wonderful overall experience!
(Posted on 4/7/2018)
Great little flyer, fun fun fun. Had some issues that Grayson helped me with (all my issues). Customer service is super! (Posted on 1/17/2018)
Has very nice build quality and flies very good out of the box. Wish it had a beeper. (Posted on 12/27/2017)
Was really excited for this little quad since it's specs are unreal for a 2". First flight it had insane twitches. Come to find out, the motors we're extremely loose (the bearings, not the screws) I reached out to Grayson but only got an apology. After replacing the motors, it flies great but didn't plan on having to do that on a bind and fly. Just be prepared just in case. (Posted on 12/18/2017)
The GT R90 is a good flying drone.I did have an issue with mine that some of the props that came with it would hit the frame. A little investigating found that the upper frame was a little off center by about 1.5mm in the front. Been using 1.9" props and all is good. will order some better 2" props and give it a try, looks like they may be okay if consistent in size. Deducted point for the poop props that come with it. (Posted on 12/11/2017)
I have been FPV flying for about 3 years, I started with the Rise Vusion (Great for beginners) and move up to a Arris c250 V2 not very durable for racing but is fun to fly. About a year ago I purchased a Diatone GT 200 and I found out what a real race drone was. It is such a great feeling to buy something that exceeds you expectation. The only problem was flying one of these drones in the backyard or around cars and houses is just unwise. So every time I need an FPV fix I had to pack up my gear and find a place to fly, until I purchased the GT R90 and Oh boy! On 2s it's perfect for zipping around the house and back yard, on 3s it's hard to believe you are not flying a much bigger and faster Quad. Thank you Graysonhobby for exceeding my expectation your review of the GT R90 is spot on. (Posted on 12/10/2017)
geat little quad, Picked mine up at the store after seeing previews online. I believe Grayson hobby was one of the first in the states to have them in stock. Since there was very littile info available about the GT R90, the guy's at the hobby shop filled me in with the much needed information on how to get it hooked up, and even offered me a dump of thier Betaflight. The stock pids will get you flying straight out of the box and then you can tune to your liking. I get 4 min. flights with the 450mah batts. that GH sell. (Posted on 12/5/2017)
Grayson shipped my Diatone GT R90 right away and even will respond to questions like a good Hobby store should.
I am impressed with there service,support and informative YouTube videos! (Posted on 11/28/2017)