Twin Engine C-47 - V2 PnP - steerable tail wheel - 59 inch WingSpan / 1470mm
This plane has realistic looking WW 2 paint scheme with factory invasion stripes. The Dynam C-47 twin engine plane is a great scale flyer with the wingspan over 57". Powered by 2 480 size brushless motor (1100 KV) with scale 3-bladed props. The C-47 is constructed from crash resistant EPO foam which is covered with a factory high-quality paint finish. This plane flies as good as it looks.
Airplane Features:
Fixed robust landing gear allow for smooth takeoffs and landings
Steerable Tail wheel - V2 models only
Powerful twin 480 size (1100kv) outrunner brushless power system w/ 3-bladed props
Twin 30A Brushless ESC with Switch-Mode BEC with XT60
Durable and lightweight EPO construction with many surface details
Excellent Flight Performance
Detailed Body Structure with matching WW II scheme
Suitable for pilots who wants their first Low-Wing trainer to advanced pilots.
Airplane Specifications:
| | |
| --- | --- |
| WingSpan | 57.87 inches (1470mm) |
| Length | 38.58 inches (980mm) |
| Servos | 4 x 9g (installed) |
| Battery | 3S 11.1V 2200 30C (not included) |
| Motor Size | Twin 480 size (2815-1100kv) outrunner brushless motors (installed) |
| ESC Size | Twin SkyLord 30A Brushless with Switch-Mode BEC & XT60 (installed) |
| Prop Size | 2 x Dynam 3 blade 8 x 6 (8x6x3) |
| Radio | 4+ channel (not included) |
| Charger | 2-3s (7.4v - 11.1v) Basic Lipo Charger (not included) |
| Receiver | +4 Channel (not incuded ) |
| Flying Weight (AUW) | 42.32 oz (1200 g) w/Battery |
| Flying Time | 5- 10 Minutes with the Grayson Gold 2200mAh 11.1v 30C or longer |
Steerable Tailwheel - V2 version only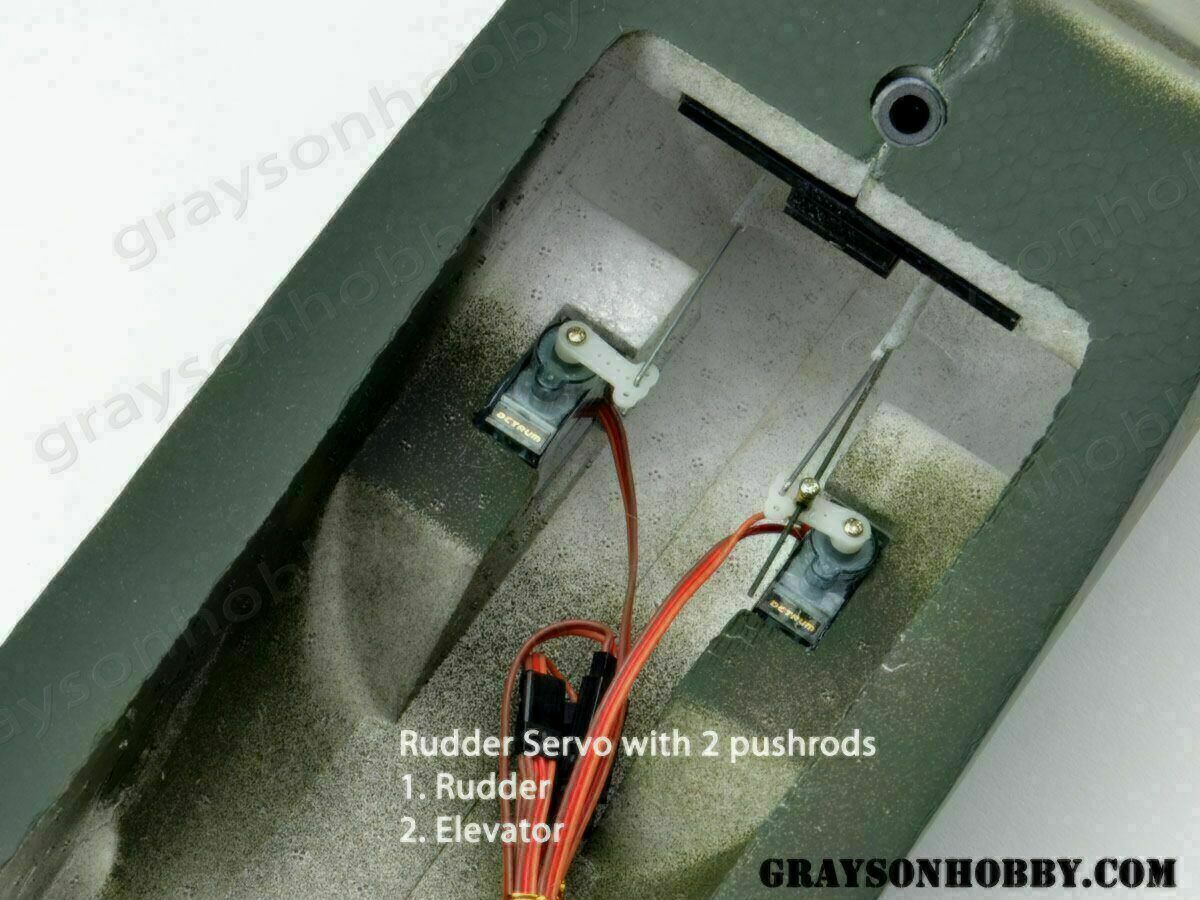 You may also be interested in the following product(s)
Regular Price: $69.99

Special Price $49.99
Customer Reviews
Nice looking plane. Everything arrived in good condition and fast. (Posted on 11/19/2018)
The Dynam C-47 is a good starting point for someone looking at their first twin motor model. The model was package well and was free of dings or dents. I found the wings to have a slight upward curve towards the wing tips but this didn't seem to cause any flying problems Once I fired up the radio components of the plane, I found the rudder servo would not center and tended to jump near neutral. I emailed Grayson about the problem and they quickly got to me another replacement servo.
Once every thing was set up I found I needed to add a bit of weight to the nose to get the C.G. at the recommended position of 60 mm from the leading edge. I found the spinner nuts for the props to be not running true and causing excessive vibration, so I just flew with the nuts and washers provided with the motor to hold the props on. The plane flies well and looks pretty good in the air. Seems to fly scale like at about half throttle. With a little preparation and care this plane makes a good entry level twin. I would give the model about 3.5 out of 5 (Posted on 7/6/2017)
Model arrived in double heavy box, no damage. Instructions are small pictures with comments below. I went to utube and found several good explanations. I have not yet done a madian flight. (Posted on 6/3/2017)
Good looking airplane.Haven't flown it yet. Instructions could be a little more complete. Motor wires so short I can barely get the ECU's in. So far, definitely worth the money. (Posted on 6/3/2017)
Plane went together in about 2 hours ( I'm old and work slowly). No real issues. I found it hard to put the decals(invasion strips) on the wings. They are BIG and not easily installed. (Posted on 5/22/2017)
The plane arrived fast and no damage. Went together fairly easy. I lifted the motor angles up with two washers. With a 2200mah it needed nose weight, with a 2650 just 1oz added in the nose, perfect. Ordered spare parts for that, "when it happens moment", It's a beautiful plane with lot's of history that you need in your Warbirds array. Very light weight. Dynam did a great job on it, I think. And Motion RC is still in the ranks with customer service, spare parts and having items in stock. A+ The one problem I'm having is the throttle. I did the throttle set and the motors still won't start up until I have it to just below half throttle. The winds have been horrific, even for me to fly but the weather is looking promising for the maiden. Can't wait. (Posted on 5/2/2017)
A winner in flight. Replaced the stock wheels with a custom
design mounted 3 inches forward for consistent performance on rough surfaces and grass. (Posted on 4/21/2017)
Well packaged for strength and damage prevention. Plane has the classic look and is easy to assemble with few parts. The ESC's are wired together for quick assembly. They appear to be attached a little to short to span between the motors but a simple cut back on the shrink tubing where the two wires come together fixes the fit. Their are two different tail numbers on the decal sheet but I used them anyway, reates a talking piece. Have not yet flown it but it appears to be a gentle giant! (Posted on 2/28/2017)
The ESC wires are about 1 inch too short on each side. Why not make them the proper length? I will have to re-wire them. The servo arm threads are stripped out from the factory. The screws don't hold well. Have not flown it yet. (Posted on 2/13/2017)
Out of the box......the elevator and main wing tips had some severe warping. easy fix with some carbon fiber rod. ESCs were a tight fit in the engine cowls and needed about 2 more inches of wire, as did the aileron leads. All and all an easy build, despite the shortfalls. Have not flown it yet but it runs very smooth and surprisingly quite for a twin motor. Well worth the price! :) (Posted on 2/10/2017)