KingKong ET V2 Series Bundle Combo Package
Grayson Hobby has taken the best FPV Racing Drone for beginners and combo'ed all the best-related components. Pick and choose what you need or pick them all if you are brand new to the hobby!
The BASE combo package will require
some configuration
once it arrives,
no worries, we have easy to follow setup videos
please watch the video below for setup with the FrSky QX7 - really its about a 10 - 15-minute setup. The FrSky Qx7 is arguably the most popular 'FPV" Quad Transmitter on the market, super affordable and plenty of room to grow. Included with the Quad is a genuine FrSky XM receiver. Just open up the case (3 small screws) press the bind button. Then just set up a few options in the Qx7 and you are off and flying.
Have No Time? We can help you.
Select the customized feature and let our expert staff, Bind, Configure, BetaFlight Program, and test hover your drone so when you get it out of the box, you just charge, fly. No setup will be required if you have our staff setup your quad.
What's included with the Grayson Customization (extra not included with basic combo)
When the Combo arrives with the Grayson Customization, all you need to do is charge the flight battery pack and fly - WE HAVE DONE ALL THE HARD WORK
Setup Radio with End Points, SubTrims, Mixes, switches
Bind Quad to Radio
Program Arm / DisArm on Radio and Quad (important safety feature)
Setup 3 Different Flight Modes in BetaFlight (Acro, Horizon, Airmode)
Setup Buzzer on Switch
Assign Mode Switch on Transmitter (

Acro

,

Horizon

,

Airmode

)

The

Angle Mode

is auto-leveled making is a no-stress flying experience for the complete beginner or for flight training.

In

Horizon Mode

the drone is no longer limited by angle, allowing you to do flip and roll, auto-leveling directly after performing the trick.

In

Acro Mode

, the drone will fly like an airplane with no auto-leveling or angle limitation, making it great for flying around in large spaces.
King Kong ET 115 V2 OverView
King Kong ET V1 Setup Videos with Qx7 - Radio Setup / BetaFlight Setup
How to Record your onboard video directly to a DVR with your ET125 / ET115
The ET Series from LDARC is next-level micro FPV racing drone designed for the beginner to PRO looking for the best quality quad without breaking the bank. The ET Series from KinKong RC is the most durable, best flying quad for the in the price range. Even more, the quad can be configured in Betaflight configurable, making this the best mini FPV machine on the market.
The ETSeries from LDARC is what Grayson Hobby recommends for beginners who have little FPV or Drone flying experience due to its durability and flight characteristics.
What's in the box?
(1) FrSky Qx7 Tarannis
(1) ET115 V2 FrSky BNF
(1) 600mAh LiPo Battery 11.1v (3S) with XT-30
(3) Extra Canopies
(1) User Manual
(40) 2345 Props 10 Pairs (yes 10 Sets)
(4) Air Cowling for Props
ET115 V2 Specs
Voltage (2S - 3S | 7.4v - 11.1v)
WheelBase 115m
Weight: 95.4g
Prop: 2345
Motor: 1104-5500kv
Battery: 600mAh 11.1v (3S) 50C (xt-30)
Flight Stack: F3 with OSD & 4 in 1 12 A ESC BLHelis
Camera: OV231 NTSC 150 FOV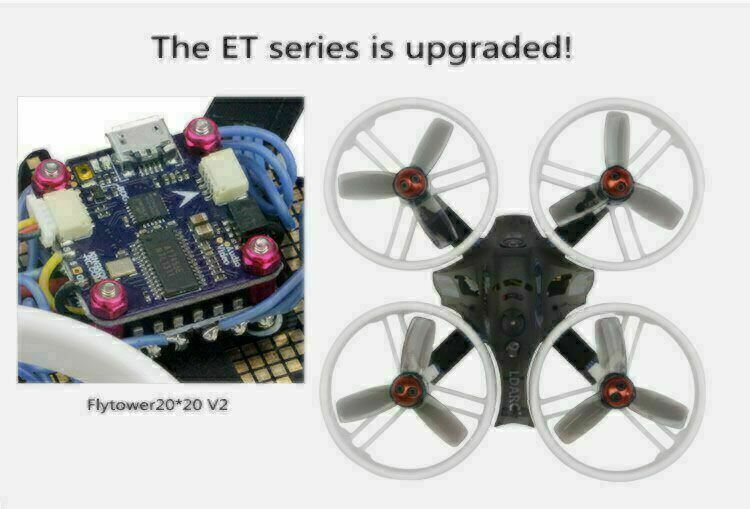 Tools Need (bare bones setup no BetaFlight)
Small Phillips head screwdriver
NO COMPUTER is required to get the basics set up and flying - buts its highly recommended.
Tools Need for advanced setup
Small Phillips ScrewDriver
PC / Mac Running BetaFlight (please note we do NOT support Betaflight, your PC, or anything related. 99% of the time its a driver issue or bad USB cable)
You may also be interested in the following product(s)
Customer Reviews
Really like this drone, great service with Grayson! (Posted on 1/22/2019)
Awesome quad and great service! The good people at Grayson hobby had it set up and ready to fly out of the box. Love this quad, durable and easy to fly! (Posted on 1/10/2019)
Thank you guys for going through and showing beginners all the nicks to this racing drone. Most dont, I fly larger commercial drones and will be buying one of these. I am a Vet that was looking for a Vet owned drone store...yesssssss (Posted on 12/30/2018)
I accidentally disarmed the quad when it was over 100 feet in the air because I'm learning how to fly and I hit a wrong switch. While the battery got a little dinged up, the quad was totally fine. This thing is fine tuned and fast as duck. Buy it and be happy. (Posted on 12/13/2018)
Always a pleasure to deal with this company. They give good reviews and recommend good products. This is a perfect beginner set up (Posted on 12/2/2018)