iRangeX iRX-IR8M 2.4G 8CH Multi-Protocol Transmitter With PPM S.BUS Mini Receiver
This is a close out itme, all warrties must go thru manufacture
Compatible with Walkera, Hubsan, Frysky FlySky, DSM2, DSMx and many more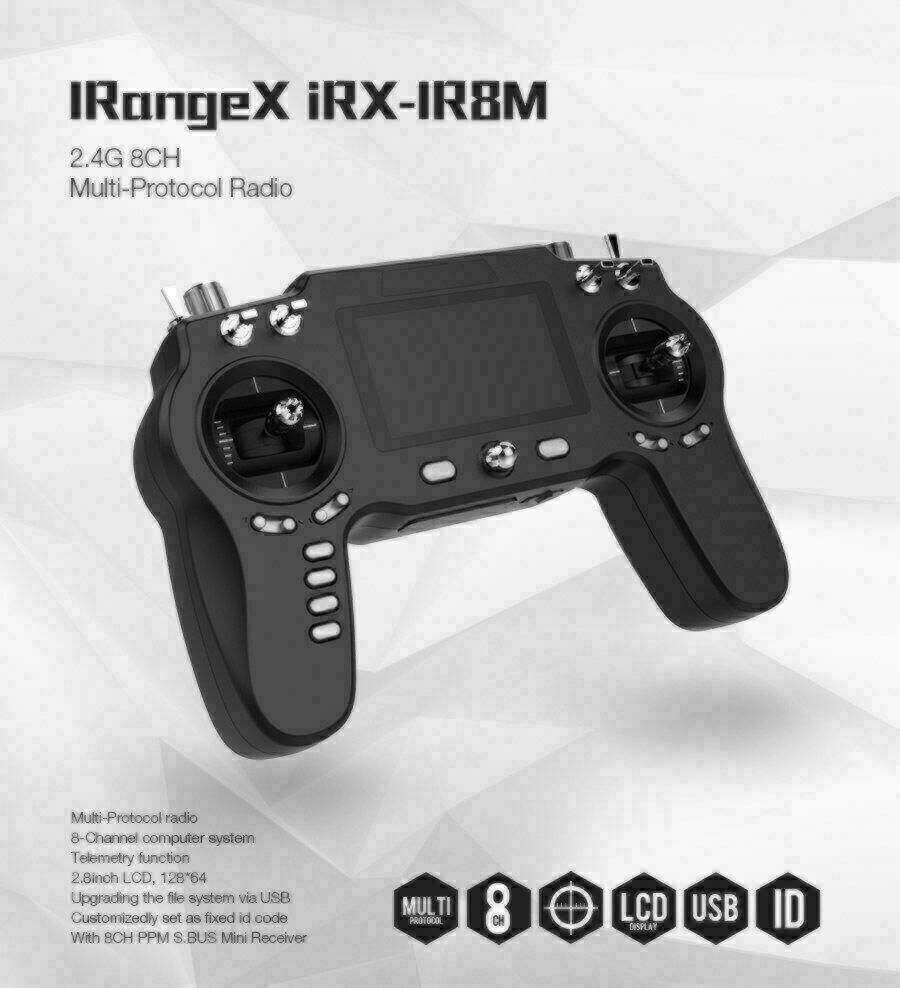 See if your model will work but checking out the software wiki page -
https://www.deviationtx.com/

Description:
Brand name: iRangeX
Item number: iRX-IR8M
Band: 2.4GHz
Channels: 8
Color: White, Black (optional)
Mode: Mode 2, Mode 1 (optional)
Computer Radio: Yes
Outpulse: 1000-2000ms
Model Memory: 30
Modulation: "4 IN 1" CYRF6936, CC2500, NRF2401, A7105
Range: Full
Telemetry: Yes
Transmitter (Tx) Battery Type: 2S Lithium lon Battery/ 4S "AA" 1.5V
Features:
* i8X-IR8M transmitter can act like a USB drive. Managing models, configuration, icons, and themes is as easy as copying a file.
* Supporting for up to 255 different models in transmitter memory.
* Fully configurable themes including bitmaps, fonts.
* Flexible transmitter configuration, remap any switches or buttons to any purples. Also Virtual Channels for additional functionality.
* All text is localized, user-adjustable mode configurations (1, 2, 3 or 4)
* Smooth, quad-bearing gimbals, adjustable stick length, and tension.
* Comfortable, no-slip rubber grips.
* Easy-to-read backlit screen.
*Support for multiple protocols without any modifications to the transmitter:
Cyprus: CYR6936: DSM/DSMX, JR Pro, Walkera DEVO
Texas Instruments: CC2500: Frsky, Futaba SFHSS
Amiccom: A7105: Flysky AFHDS2A, Hubsan
Nordic Semiconductor: NRF24L01: Hisky, Syma, Assan, and most other Chinese models.
You may also be interested in the following product(s)
Regular Price: $119.99

Special Price $109.99
Customer Reviews
It seems pretty good. In quality.and the sticks seem to center like they should. (Posted on 11/5/2018)
First time running deviation took a couple hours to get it down but I got it for my micros and it works great haven't had any problems yet (Posted on 3/20/2018)
Quality is about what you'd expect for the price. It also had a defective elev/aileron gimbal. Didn't like the 3 position switch placement. At full throw of either gimbal I the up position you could easily bump the switch off. Grayson allowed return. (Posted on 3/16/2018)
Great Idea, Nice setup But I think there needs To be More R&D the Range is not far and the Software seems Unsuitable (Posted on 3/4/2018)
Complicated,but I knew that before I purchased it.I was going to use it for my 8 channel planes,& it worked,but still can't figure out the 3 position switches.I think it's better suited for quads & helicopters of all kinds with the multi protocol feature.The only channel I couldn't get to center was channel 4& that wasn't way off so no big deal.Over all not a bad transmitter for the price,although haven't done a range test yet. (Posted on 2/19/2018)