Eachine Wizard X220 FPV Ready to Fly | Drone Racer with Blheli , F3 Flight Controller
GraysonHobby Checks and Calibrates Every Single Wizard 220 Before Shipping!
Grayson Hobby has the professional staff and pilots which is required to check and calibrate EVERY RTF quad. This is a very time consuming process, but we can assure you, every component will be in perfect working order.
Software Setup
The Grayson Hobby professional staff loads our own Flight Controller configuration file which has been tweaked by our professional pilots. We also enable a few features which do not come standard from the factory making the Wizard from Grayson Hobby that much better and enjoyable.
Hardware Setup
There are many components associated with every quad / drone which are NOT all assembled by the same person at the factory leaving just about every quad we have seen slightly different. Either switches on the TX, Flight modes, even loose motors, trust us, we have seen it all.
FULL VIDEO MANUAL ( please watch - we get 100s of questions a week in which we cover in this video)
Frame
Wheelbase: 220mm
EMachine arm: 4mm carbon fiber
Flying times: 12 minutes
Weigh: 484g (with battery)
Take off weigh: 535g
Package size: 440 x 300 x 100mm
Package weigh: 0.95kg
Flight Control
Motor
2205

KV : 2300
MAX thrust: 440g
Length: 32.2mm
NO.OF cell : 2-4S
Diameter : 27.9mm
Framework : 12N14P
Shaft : 3mm
Propeller : 5 inch
Weight: 25g
Prop
5040 3-Blade Propeller
Color: purple
Quantity: 10 Pairs
Mounting Hole: 5mm
Weight: 137g
Size: 140*140*65 mm
ESC
Item name : 20A BLHeli_S ESC
Con.Current : 20A
Peak Current(10s) : 25A
Input Voltage : 2-4S
BEC : No
Programming : YES
Firmware : Blheli_S
Weight :7.9g
Size(PCB) : 27*12mm
Battery
Capacity(mAh) : 1500
Cells (s): 3
Weight (g): 120
Length(mm): 89
Width(mm): 19
Height(mm): 35
Connector: XT60
FPV Camera
Power supply : 3.6-5.5V (powered off TX)
Power consumption : 60mA @5V
Imager : 1/3" CMOS, 700TVL
Angle : 127° diagonal FOV, 110° horizontal FOV
FPV tuned light handling
System : PAL
Lens : 2.8mm IR coated
FOV : 127°diagonal 110°horizontal (ideal for fixed camera)
Operation temperature : -20 to 70°C
Square : 29 X 29 X 23.5mm
Lens extrude (LxDia) : 15mm X 14mm
Weight : 12g
Video Transmitter
Item NO.: TS5823S
Modulate : Wideband FM Modulate
Video Format : NTSC/PAL
Output Impedance : 50 Ohm
Output Power : 23-24dBm
Channel:48 CH
Operating Voltage : 7V-24V
Supply Current : 190mA
Operating Temperature : -10~85℃
Video Band Width : 0~8.0 MHz
Audio Carrier Frequency : 6.5 MHz
Video Input Level : 0.8~1.2 Vp-p
Video Input Impedance : 75 Ohm
Audio Input Level : 0.5~2.0 Vp-p
Audio Input Impedance : 10K Ohm
Connector: RP-SMA Female (Inner needle)
Antenna Connector: RP-SMA Male (Inner hole)
Dimension: 40mm x 23mm x 8mm
Weight: 7.3g
Radio
Eachine i6 2.4G 6CH remote control and receiver
Output: PPM
Package included:
1 x Flysky I6 2.4G 6CH remore control
1 x Flysky iA6B receiver
2 x Eachine

MN2205

KV2300 brushless motor CW
2 x Eachine

MN2205

KV2300 brushless motor CCW
4 x Eachine 20A BLHeli_S ESC
10 x Kingkong 5040 3-blade propeller purple CW
10 x Kingkong 5040 3-blade propeller purple CCW
1 x F3 Flight Controller
1 x 700TVL camera
1 x 5.8G 48CH 200mw transmitter
1 x 3S 11.1V 1500mah 25C XT60 battery
1 x B3 charger
1 x Antenna
1 x Battery strap
2 x Wrench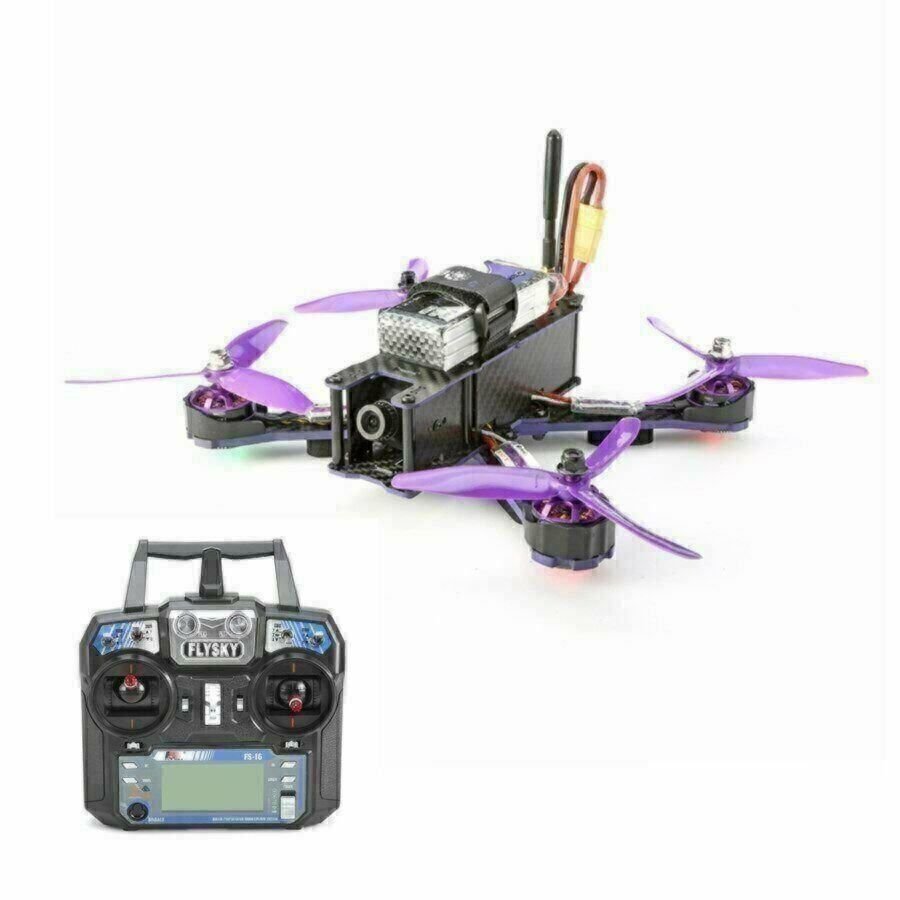 You may also be interested in the following product(s)
Customer Reviews
Sturdy, fast, lots of fun! (Posted on 1/10/2019)
Guys at Grayson are awsome. Nice to get a package really ready to fly with their custom set up. Great for this Noob!

(Posted on 1/6/2019)
I love the product in the service thank you very much and Merry Christmas (Posted on 12/18/2018)
Grayson hobby is a great store. The gold tuned wizard is a awsome drone. 10 gold stars, (Posted on 11/12/2018)
It is super stable and a ball to fly , my only regret is I should bought it sooner . And yes it was gold tuned ! (Posted on 11/8/2018)
The charger provided with the kit is junk, and the aomway goggles don't come with a battery aside from that it is a great first drone for beginners. (Posted on 10/30/2018)
Grayson hobby is a great store. Buying my second wizard this week. (Posted on 10/28/2018)
This race drone fulfill all my expectations. It's really a good buy for the money. Everything they said it do believe me it do. I have no regrets spending a little bit more money for this drone, cause is well trim and set up ready to fly. Just charge the battery and go and fly FPV. (Posted on 10/22/2018)
This is the perfect quad if you don't want to spend too much and just want to get into the hobby cheap to try it out. Flys great! Only bad thing is occasionally the motors will slip up a tiny bit. I would highly recommend this product. (Posted on 10/17/2018)
The Drone and the tune they do are great i got the silver tune it feels awesome flying this is my first drone and in 3 days I'm using only acro and feel comfortable doing flips and tricks, the charger that comes with it broke the first night but they even said it was garbage on their YouTube setup tutorial, but this drone is strong and very fun! Glad i didn't get it from banggood! (Posted on 10/14/2018)
It's nice to buy a race quad without the hassle the beginner doesn't have to worry about the confusion of learning everything at one time. Thank you! (Posted on 9/28/2018)
Very pleased with the product, service and utube info videos.
Straight out of the box gold Set up flys like a dream.
Love it!
(Posted on 8/25/2018)
I'm giving the wizard x220 and Grayson hobby 5 stars! The drone came in a timely fashion! It was pre tuned to the gold package. (Fast) to fast for me! Very little assembly was needed. 2 thumbs up for the video provided by The Grayson staff! Setup was a lot easier when watching the video! This drone is a really fun flier! It takes some time to get use to the controller. It's a little sensitive. I really thought I was getting the hang of it! Then disaster struck!! Some how it got away from me and I lost orientation! The mistake I made was not shutting off the motors at the right time! It was to high in the sky and pretty far out there! The drone flew away! I was unable to find it! I was heartbroken! It really is an awesome drone! I'm not sure what to do at this point. I have all the accessories with no drone! If I can only get over the fear of it flying away! Maybe I would buy another one! My wife begs to differ! All I can say to all you new fliers be careful how high and how far away you fly! If you get to this point where I was either drop it or lose it! It's better to have a broken drone you can repair then no drone at all! I highly recommend the wizard x220! Do yourselves a favor and order directly through Grayson Hobby. I've gained so much knowledge by watching the YouTube videos the Grayson team puts out! Keep up the good work fellas! (Posted on 8/24/2018)
Awsome!!!!! (Posted on 8/10/2018)
The racing drone is the best racing drone that I've owned. It's a little different to where I'm used to not having to keep it in the air myself but I'm learning as I fly it. (Posted on 8/3/2018)
I ordered my wizard x220 on a Friday and received it by the following Tuesday. Only had one minor issue with my order they where out of the ev800d. Will called me up and offered my money back or and option to get a different pair of goggles. Blew my mind they called to see what I wanted to do. Great service. Everything worked great out of the box. Did a short test fly and it's awsome. To windy today to start learning the full experience of this quad but can't wait!!. Would recommend Grayson Hobby to any one. (Posted on 7/31/2018)
I ordered this product due to the pre- programed option. And glade that i did. With no time to build my own due to working. It flew FANTASTIC right out of the box Literally.I want to send my Diaton 2017 gt with remote to them to program. (Posted on 7/16/2018)
Best rtf you can buy today had one before couldn't ever get it to fly like this it's fast a great thank you so much will be ordering more from you in the future and plz restock your wild scorpion battery's for the wizard (Posted on 7/13/2018)
This is a great starter race quad, mine came with the gold tune and everything works. The shipping was very fast. (Posted on 7/5/2018)
Setup beyond what I could do as a first timer. The 20+ minute YouTube video to assist in setup was, again, invaluable.
Is the product awesome, yes.
Do I trust grayson completely with my rc purchases, 150% yes. (Posted on 6/16/2018)
I started off with a chroma Blade for aerial photography. Then moved up to a mavic pro. Purchased a tiny whoop to play around with and got hooked. Went out and bought a torrent from blade and it's a piece of garbage. Shopped around to purchase something without having to build it. Then found this product. Did some research and found out these guys & gals. Not only do they give what I feel is an honest review of the product but tell you what's good and what's bad. Then when purchasing the give you options to make it better. I am a beginner but feel as though this product is perfect for someone like me. Purchase through Grayson hobby makes it even better. That is due to the tweaking they do to the product tightening of everything and the videos they have to help guide you. (Posted on 6/2/2018)
Excellent for fpv beginners (Posted on 5/28/2018)
Product came ready to fly, I recommend getting the extra battery's and the gold tuning. It is a great drone. (Posted on 5/26/2018)
Awesome quad! Cannot help but buy from these guys after watching their most helpful videos! Obviously very nice people and they put in a lot of effort and do an amazing job! (Posted on 5/26/2018)
Hello i want this drone in perfecg ready to fly so you must check all before send machine .i drive MODE 1 TROTTLES IN RIGHT , and i live in BELGIUM (Posted on 5/18/2018)
Awesome quadcopter!! I the crap out it, ran into trees, buildings, the ground, concrete, u it over hit/ ran into/crashed & its still alive!!! Only broke 1motor Cse it was my fault! But RECOMMEND WIZARD X220 TO ANYONE!!! (Posted on 5/17/2018)
Grayson hobby did an excellent job tuning this machine , it flies great , my son Daniel loves it . Right out of the box it is awesome. (Posted on 5/15/2018)
it great i'm flying mow, you guy gave me some light in this dark drone programing nightmare of mine. thank again. its good to be flying. (Posted on 4/24/2018)
This is the first drone that I have got to fly. So thank again. The drone flying I'm able to practice flying. The programming part, so I can fly while I work out the bug on the programming part. Once again thank you. (Posted on 4/16/2018)
Shipping was super fast and I'm very happy with the wizard (Posted on 4/15/2018)
The staff at Grayson Hobby are very knowledgeable in what they do. I done quite a bit of research before purchasing, and Grayson Hobby was by far the best. Their shipping was outstanding and I received our order in a very short amount of time

Thanks Grayson Hobby (Posted on 4/8/2018)
Get the gold package!!!! (Posted on 4/7/2018)
Awesome RTF drone for the money.
(Posted on 4/4/2018)
.I am happy with the performance of the wizard. And it's a lot of fun to fly
.. but I had one kinda rough landing .. and it happened to bounce and it landed upside down and the elbow on the TX separated... and I have to replace it's to one that comes out the back..aside from that everything is good. . Thanks Grayson (Posted on 4/2/2018)
All I can say is that I'm very happy with the products I ordered, and the guys at Grayson Hobby were extremely professional and polite. They answered all of my questions and helped me choose the right products. I will definitely be ordering more FPV gear from them! Thanks guys! (Posted on 4/1/2018)
I'm not very accomplished but this quad feels very docile at low speed and is FAST when you give it some push... I find the balance to be fine, and the config made it great out of the box. (Posted on 3/31/2018)
Small concern with not receiving a manual which doesn't come with the wizard we found out after and thought they where installing the washers on some screws but Grayson Hobby resolved these issue quickly. Great service and fast shipping. Thank you Grayson Hobby. (Posted on 3/18/2018)
Shipping was just as they said. The tracking on the package made for a worry free wait. I have to say that I was pleasantly surprised with the professionalism of Grayson hobby.

I was very anxious to get my hands on my new drone. I had built two others in the past but I never had the programming down so my builds were not all that. In fact I spent way more time behind the computer than I did flying. Frustrating. These guys took care of the guesswork. If you buy one buy it from Grayson and get the gold tuning... It's worth it.

When I got my package it had everything that they said. Nothing was missing or overlooked. The drone was tight and ready for the airfield. I have been flying everyday for almost a month and have had some gnarly ass crashes and not a scratch or broken anything. Tough, quick, durable,... What else can I say? Oh yeah get better props. The stock ones are lame. Hard to get on and even harder to take off. Trust me. You want to purchase better ones. If you can find 5x5 props get them. Way more punch! Get this drone! (Posted on 3/16/2018)
Shipped fast and in good condition. Now for the important stuff...Watch the Grayson Hobby videos and pay for the Gold Tuning Package! I took the quad out of the box, added the props and went flying. Have had the quad 2 weeks and have changed nothing! Do what these guys say and stop worrying. Have already sent Grayson a paying customer for another Wizard. Should deliver tomorrow. Grayson knows their stuff!!!! (Posted on 3/7/2018)
Great quad, very responsive and does what you tell it to do, no lag at all. Even tho you get a crap load of props, definitely grab some more, if you hit a stick your going to need to replace that prop. The second time flying it I snapped the sma off the vtx but fortunately I was able to glue it back on and everything works fine. I would recommend upgrading the vtx right away if your a beginner like me, the camera isn't as bad as a lot of people say it is, sure it could be better but I have seen a lot worse, all the flight modes work and you don't need to do anything as software goes from Grayson. It's nice to work with an American company that takes pride in what they sell to customers. I got the eachine ev800d goggles and they are awesome, the only thing is I got it to record once when I was holding the quad and walking around the house but that's it, idk why it won't record maybe it's my mini sd card, if you guys could help me out with that I'd appreciate it very much. Also if you have some extra cash deff buy a lot of betteries and a better charger, the charger that comes with it works but isn't reliable at all, when I throw a battery on it after about 2-3 hours I need to start checking on it because the lights don't turn green when the battery is charged, I need to unplug the battery, unplug the charger, replug everything and then it will tell me if the battery is charged, its hard to explain. Just remember watch all of their videos, very very important. (Posted on 2/18/2018)
What to say, if you watch their videos on the Wizard X220 then that's what you get! Package was shipped earlier than I expected and arrived on time in great condition. They did what they said they would for the gold tune. Flies great although I'm just a beginner to FPV. Can't wait for spring so I can fly it like it's stolen!!! (Posted on 2/16/2018)
I have several flights on the wizard now. It's cold though about 15 degrees out. Very stable and responsive. Glad I went with the gold tune. I can't say enough how nice it is to have it fly so well right out of the box. Thanks you guys it is well worth the extra cost. I have already upgraded the camera, video transmitter and antenna. This is a great little quad and if you buy it from any where else I think your making a mistake. Thanks again. Doug L. (Posted on 2/10/2018)
Ordered Eachine Wizard X220 - F3 - FPV Drone Racer - RTF - Blheli_S - Grayson Gold Tuned Wizard on Dec 28th. It shipped on Dec 29th (keep in mind this is during the Holidays with Monday being New Year's Day). I received it on Tuesday, Jan 2d! FAST shipping! I simply could not be happier with this purchase and my decision to go with this RTF Quad from Grayson Hobby. I am new to quad flying and am looking forward to learning FPV. I am starting out slow by learning line-of-sight (LOS) first and am using the Horizon Mode Will pre-programmed into this quad. OUTSTANDING. Although I have crashed it several times (completely my fault), the Quad has not sustained ANY damage. It is very durable. I did watch ALL of Basil and Wills videos on this quad before I purchased it and also after it arrived. I did put DAL 5040V2 props on it (I decided not to even think about flying stock props and changing them every time I crashed). I also ordered/received a low voltage buzzer/alarm to attach to the battery. This is a loud alarm and alerts me when batt is low so I can land and recharge it without degrading the battery. I also purchased a 1500mAh Wild Scorpion 3S LiPo batt from Grayson with this quad. The stock battery that came with it only gets me about 5 minutes of flight time. The Wild Scorpion gets me 8 1/2 minutes (much better!). Lastly, by watching Basil and Will's videos, I was able to replace the stock camera with a Runcam Swift 2 and hook up the OSD thro9ugh appropriate soldering (and I have never soldered in my life). Everything works PERFECTLY! Thank you Basil, Will, and Grayson Hobby! You have a new customer for life! Please keep doing the videos so we all can keep learning from you. (Posted on 1/5/2018)
I sent Basil a few emails with many questions and he answered and was 1000% truthful and helpful! I then called a bit too late for Christmas, but Lindsay helped me get this before Christmas. This Quad is fantastic, they videos the guys do are fantastic! Thanks sooo much (Posted on 1/4/2018)
Love the fact I didn't have to tune ready to go right out of box.been having lots of fun (Posted on 12/29/2017)
This item arrived in great condition and the instructions were pretty straightforward. I was able to fly and begin my journey with this hobby. I'm using the default rates, but might try the higher rate soon. Thanks Grayson Hobby! (Posted on 12/28/2017)
This was my first real drone and I can say it is good. I'm am happy ordering from Grayson Hobby too. But there was just one problem with the charger. When I got it the charger did not light up in cell 2 and only charged on cell. My overall review is good. (Posted on 12/25/2017)
On your first flight make sure you have the drone at least 50 ft in front of yourself so when it heads for outer space, rather rapidly, you can still perhaps see it. Got it back safely thru dumb luck and landed it safely. Awesome product, great shipping. (Posted on 12/10/2017)
I got the Wizard X220 Gold package. The package comes ready to fly right out of the box except for charging the batteries. I flew it the first couple times line of sight only to make sure everything worked properly the quad did not need any trim at all It flew perfectly straight no wobbling or Sliding sideways.
after flying on the goggles the only thing that I can say I'm going to change is the camera, I will be upgrading that to a runcam Eagle2 pro.my conclusion is if you're going to buy a wizard x220
get it from Grayson hobby with the gold package and don't look back (Posted on 11/18/2017)
Awesome wizard love you have it ready to fly out box (Posted on 11/13/2017)
Awesome wizard love you have it ready to fly out box (Posted on 11/13/2017)
Flies like its on rails right out of the box. (Posted on 11/1/2017)
Get you wizard here instead of banggood or Amazon or wherever. The customer service alone is worth the little bump in price. The Grayson team got me back in the air through a series of emails after I made the mistake of using Betaflight 3.2 with my quad. BTW, don't do that haha. Use 3.1 and you'll be all good! (Posted on 10/19/2017)
WOW... This is my 3 wizard, 1st from Grayson. Other 2 were from BangSh*t - No help, nothing worked, even TX was broke. The Wizard I received from Grayson is a true custom racing quad. Cannot say enough great things about this..

I can not wait to upgrade my Rotor Riot Camer with Grayson Solderless solution. Man these guys do their homework!

(Posted on 10/16/2017)
Grayson did a great job setting it up, and having all of the introduction videos easily accessible. Getting it in the air was easy. Almost gave it 4 stars because the props, battery, and charger are junk...but you'll need new ones of those anyway. Great job Grayson! Will buy from you again. (Posted on 10/12/2017)
Im new to the hobby. This is my first quad of this size. I am very a
Happy with the tuning as its something i didnt know how to do. This thing flies perfectly right out of the box. Literally just charge the battery and go. I think the tuning Grayson does is critical to flying this right out of the box. (Posted on 9/25/2017)
Works like they said. (Posted on 9/17/2017)
I just got my drone, waiting for my goggles. But from some line of sight flights i have had some crashes. Only thing I have broke is 1 prop. It's powerful and quick. Easy set up if you watch these guys videos and Grayson hobby has been more then helpful with answering my all my questions! (Posted on 9/9/2017)
With the gold tune I can fly in my back yard safely and then go to the park and let loose with a second flip of a switch. Great service and also thank you Grayson Hobby for sending a battery bag with my order. It is definitely being used. (Posted on 9/8/2017)
Amazing first quad got the gold tune an the rates are perfect! (Posted on 9/5/2017)
Grayson Hobby did a great job with handling my questions and re-stocking their supplies in a timely fashion. You get what you pay for with this kit: nice and sturdy body and motors, medium/ fragile props, average battery, nice controller, great programming (Gold), Aomway Commanders are ok nothing crazy, nylon nuts are a pain in the butt the first few times changing props, but they get easier and work great. Over all worth the money no matter what options you go with for the price. Thank you Grayson Hobby for this offer. (Posted on 9/1/2017)
The ready to fly version was just that from the mailman to the flying field in short order. Everything worked just fine and as expected. I found the set up and tuning to suit me just fine (silver) I am new to quadcopters this is my second quad. Its plenty fast and agile a few minor crashes nothing violent didn't even break any props yet. I am very impressed with the transmitter included smooth attractive much better than anything I have gotten in RTR/ RTF kits in the past. The purchase and shipping was all outstanding trouble free and quick. I am very pleased with my purchase I feel I picked the right vendor and product. I got a couple small gifts along with my order that just completely made me happy. Something I didn't order for free just made me feel like I won the lotto:) I would like to suggest to other buyers get the Lipo Battery Voltage Tester with Low Voltage Alarm it is one of the coolest things I have ever seen in RC and it is only 5 bucks. Not only will it protect your lipos but if your quad goes down it can sure help you find it once the battery gets low the sound is very loud you can hear it pretty far away. I will be ordering a few on my next order. Fly safe and have fun (Posted on 8/31/2017)
I want to start this review with thanking Grayson Hobbies for the excellent service I'm new to the Hobby of flying drones the gold tone was a very big help and a lot of fun long story short I am on my second drone eachine wizard 220 from Grayson Hobbies my first one flew away both times I received these drones from Grayson Hobbies shipping and packing was excellent thank you for the battery lipo safety bag and the Grayson hobby stickers love my gold tune eating wizard 220 look forward to doing a lot more business with you guys thank you love the YouTube videos and your review videos on your products (Posted on 8/29/2017)
I just purchased the wizard. I love this drone. I am a beginner but I do love the work the Grayson team did on calibrating it. You guys are great and I will be back on buying more drones for my new addiction (Posted on 8/28/2017)
The Wizard came 95% ready to fly. I just had to unbolt the top plate and zip tie some antennas where I wanted them.

The way Grayson Hobby sets up the flight controller is perfect for someone learning to fly and their Youtube channel has been immensely helpful.

I'd definitely recommend this to people looking to start out in the hobby. (Posted on 8/28/2017)
So simple no headaches no set ups just charge it plug it and choose your flight mode and you're up in the air,my 9 year old son flys it better then,Thnx Grayson Hobby for making the Wizard X220 so easy! (Posted on 8/27/2017)
Received my wizard in a timely fashion and in good working order. Only problem was that my FlySky controller has a very large scratch on the readout display. It was scratch into the protective plastic sheet over the display and through it onto the plastic face. Other than that everything seems to be good to go. I have only hovered it for about a minute in my living room but it seems to operate well. If you buy a wizard from Grayson, be sure to watch their videos to learn about your wizard before you fly. (Posted on 8/24/2017)
These guys are great their videos are great their gold tuned wizard perfect. Wrecked a 100000000 times and its still performing wonderfully. Thank you (Posted on 8/23/2017)
The setup of this product was perfect. The YouTube video of how to finish putting it together was perfect and easy to understand. The drone is fast, agile, and amazing. But it's my first drone and very hard to learn on. I definitely should have started with a micro-drone. (Posted on 8/19/2017)
Really happy with the Grayson tune, out of the box just put the props on, charge up the battery, and you're flying. (Posted on 8/14/2017)
Definitely a company I will do business with again. The shipping method was a little confusing. They sent out one order that was two packages and used two different shipping companies. The product is great though. Great customer service and communication. (Posted on 8/1/2017)
I've never flown fpv or a race drone before. This is alot of fun and what feels to be tuned perfectly. Will definitely order again from Grayson Hobby! (Posted on 8/1/2017)
This is the best rtf quadcopter out there!! Not for beginners Cse it's not a toy this will hurt u or Damage property!! But I highly recommended if u don't wanna build & just wanna pull out of box & rip it!! This thing is awesomeness & super fast, Cse gold tuned by Grayson hobby!! (Posted on 7/23/2017)
Well all I can say is wow these guys rock. Will tuned my wizard and boy it flys well outstanding although I'm still new at this I love it. Ty Graysons hobby great job (Posted on 7/18/2017)
The wizard from Grayson hobbys is the best wizard out there. Thanks to will he checks everyone and tunes it to. I got the gold tune and it flys very nice. Just open the box charge the battery puts some props on and have some fun. Custumer service is the best ever . Thanks Grayson hobbys . (Posted on 7/13/2017)
Take it out of the box and fly!!!!!!! Everything works/ no computer no probs just fly!!!!! (Posted on 7/11/2017)
Ready to fly out of the box (Posted on 7/11/2017)
Got this quad from Grayson. Holy H*ll. The gold tune that Will does makes this baby scream. So much I already busted two props learning her handling. Love it. Going to buy another one soon for my wife. (Posted on 7/10/2017)
Take it out of the box and fly!!!!!!! Everything works/ no computer no probs just fly!!!!! (Posted on 7/10/2017)
I am very happy with this quadcopter. I am very new to flying brushless motors, most of my flying time has been indoors with inductrix-type brushed quads. The Eachine Wizard is holding up to all my rookie mistakes, except the props. The King Kong tri blades that come with this quad break very easily and I've destroyed 15 of them already. I cannot comment on the battery charger that came with the quad as I upgraded to a quality 3S LiPo charger. The small carbon fiber wrenches that came with the quad are decent and have kept me flying after trashing a prop but I will probably upgrade to some better repair tools in the near future. The FlySky radio is pretty decent too. The left gimbal/stick control is nice and smooth. Right stick/gimbal sticks on mine when I roll right and try to return.... not sure how to fix this yet. Overall, a great quad for a newbie who crashes a lot. :) (Posted on 7/7/2017)
Very happy with the grayson hubby's wizard x220. The gold tune is what makes the wizard thanks to will. Thanks guys was going to order from China good thing I didn't . Will checks everything before they ship it out to you. It's worth every penny you pay for that service. (Posted on 7/6/2017)
Grayson hobby is a great company to order through. The gold tune on the wizard is great an really needs no other tuning on it. Only bad thing about the wizard is the camera that eachine puts on them. I can't fly fpv through it cause it's just to poor quality. But that's not Grayson hobby fault. I needed different screws for the camera cause the ones that came in it just would not get tight enough to hold it in place. An Grayson sent me ones that would work at no cost to me. An just for that I give them 6 stars if I could. Hope this review helps anyone to make the purchase through Grayson. (Posted on 7/2/2017)
Great (Posted on 7/1/2017)
You have anwsered my qusestion and promptly! :) (Posted on 6/29/2017)
Thanks Grayson Hobby! I love flying this quad, thanks to your Gold Tuning package! I was able to fly right away and I have only had it a week. I would highly recommend ordering your Eachine Wizard x220 from Grayson Hobby. The quad itself has been working great, no problems for me. (Posted on 6/25/2017)
Well tuned, flies great, gold package is the way to go, can change rates to get you warmed up, only upgrade would do is camera, and better props after chewing up the ones that come with it (Posted on 6/15/2017)
Every time I order from Grayson Hobby, I am more and more impressed.. how do they deliver exactly what they advertise EVERY TIME!!! McDonald's cant do that!! As usual, everything works exactly as advertised.. keep up the great info videos.. they are so helpful in what to buy next!!! Thanks again Grayson Hobby!! (Posted on 6/9/2017)
Got my quad today and due to my poor skill I flew terribly, and loved every minute of it. I recommend looking into a simulator and trainer cord for the skyfly i6 but even though I sucked, I loved this zippy little quad. I also paired this with the Aomway Commander goggles from Grayson with an upgrade to a helical antenna for the diversity. Picture was so sharp and didn't get any loss of quality. Flew with the stock camera and Vtx though i did also purchase the solderless upgrades but will wait to install those until after I bang the originals around a bunch more. WATCH THE MANUAL VIDEO from Basil and Will, follow it, and this thing will work like a charm. (Posted on 6/3/2017)
Only complaint was slower than usual shipping.quad arrived exactly as purchased except for no bats for transmitter I thought they came with.it no problem had some already.watched video and set it up while watching no problems. Great job Grayson test hovered next day flus nice now to learn with the fpv features.thanks for another great buying experience. (Posted on 5/19/2017)
This takes all the headaches out of getting your Quad ready to fly, Im not a tech. guy and got the X220 set up and ready to fly the way I want it to fly--really appreciate this part of ordering from Grayson--- Thanks again (Posted on 5/10/2017)
You guys did a great job on my custom gold tuned wizard x220. Only flown it twice. Been using the simulator mostly for now, but when I have taken it into to field I know everything is working the way it should . Thanks guys:) (Posted on 5/9/2017)
bought this wizard and had the Grayson Gold tune installed and it's awsome couldn't ask for it to be any better. I've flown a few different quads but this one is by far my favorite. Hands down to Grayson hobby for there great customer service too couldn't ask for better (Posted on 5/5/2017)
The wizard x220 was for my 13yo son as I am not allowed to fly (I wreck). My role is sponsor and chief mechanic. This was my sons first experience with s drone racer and I figured it best to start with ARF and tuned by someone experienced. AM I GLAD I found Grayson Hobby. We literally recieved it one day, charged battery and flew it next day and my son and I were blown away. It's fast, responsive and has great range. Our next step is to build a course, upgrade fpv goggles and start playing. We did the Gold tune which was perfect for his skill level. Thanks guys for great first time experience. (Posted on 4/28/2017)
Thank u grayson hobby it works great,you guys and ladies have a customer for life....I will be ordering more things soon wish grayson hobby was in Cincinnati Ohio... (Posted on 4/25/2017)
My first quad and man it came ready to go! Great service and great price for the quality you get from these guys! I mean really what other hobby company takes the time to quality check and fly everyone of the each one wizzard 220x like these guys?! Thanks so much (Posted on 4/24/2017)
Great job you guy's. Love the Gold tuned Wizard. Thanks for taking the time to help out us noobs. (Posted on 4/24/2017)
Excellent, fun Quad & ready to go from Grayson Hobby! Aloha... (Posted on 4/22/2017)
This thing is no joke it's fast as hell for the tune on 3s!!! Highly recommend!!
#NotforBeginners!! :) (Posted on 4/22/2017)
The Wizard X220 is the best deal going of you are wanting a great acro or race quad! The guys at Grayson Hobby are top-notch and really know how to get and retain loyal customers! I highly recommend the Wizard and Grayson Hobby! (Posted on 4/14/2017)
Just want to say great drone great service cant wait to get it up in the air (Posted on 4/9/2017)
It's not a drone, it's a mini rocket ship!!!
If you're looking for a good racer on a budget, then this is definitely worth every cent!
Better than I had expected!!! (Posted on 4/7/2017)
Very happy with drone, ready to fly right out of box, good quality, very happy (Posted on 4/7/2017)
I wanted to say thank you so Grayson Hobby for doing such an outstanding job regarding customer service and quality control. I ordered my wizard with the gold tuning and this thing flies like a dream. I received it daily quickly the week of the shipping start date. Also if you're ever thinking about buying a wizard please consider buying from Grayson Hobby just for the fact of the setup and quality control as well as all the informative videos they put out on the wizard. Yeah you'll pay a bit more if you're going to order from bang good or gear best but then you're risking having a defective product or a product that is so out of whack that it'll take you at least a week to get it in the air. With Grayson Hobby you can have this from box to air the same day or within 10 minutes. Also theres no risk of the wizard being configured different. Depending on what tune you order whether it be silver or gold concerning the 3 flight modes and arm disarm switch, that is EXACTLY what you're getting. I HIGHLY SUGGEST PAYING THE LITTLE EXTRA FOR A PRODUCT THAT ACTUALLY WORKS. With bang good theres a risk. With Grayson Hobby theres absolutely no risk what so ever. Grayson Hobby has now made me a life long customer with their customer service and quality control on their products. Thanks Will, Basil and the staff at Grayson Hobby keep up the good work! (Posted on 4/4/2017)
Blown away with this one. Definitely worth every penny. Thanks to Will for the tuning. Gold pack sick (Posted on 4/3/2017)
Gold Tune Wizard out of the box is amazingly easy to fly in mode 1&2 also 3 cell battery has plenty power! If you have any decent experience ripping a Inductrix style or any drone around the house as a first quad you are definitely ready for the Wizard! I need to give Basil & Will at Grayson Hobby 10 STARS for support & video's they put on line, taking time to help us newbies get started in race Quads... Thank You Very Much Aloha from Hawaii (Posted on 4/3/2017)
Way better than I thought very fast (Posted on 4/3/2017)
Love this drone Grayson Hobby did an amazing job setting it up and getting it ready to fly. Probably the best 15 dollars I have ever spent. Great people to deal with, always reply to your emails. I try to buy items from them whenever I need them. (Posted on 3/31/2017)
I have been fly for two weeks and already feel very confident in my flying. The wizard is a great flying and good looking quad (Posted on 3/29/2017)
This quad is hands down the best beginner quad to get into the sport and have a blast rebuilding and tinkering with your new piece of equipment. This is what I am using to learn Acro mode, coming from toy (angle mode) quads and so far it is going great, and the Gold tune is just right for me. But..... I did order from Grayson Hobby because I had heard of all the awesome stories about their quality control, and their tunes. Tune as I said before is great after Will puts his magic into it. This is where I was disappointed; screws and nuts holding the arms on and two motors on were ALL loose, very loose. I also expected them to put the fabric washers between the LEDs and the screws like in the pictures, but mine didnt have any of that. Out of the box, one of my LEDs didnt even work, back right red. So maybe their quality control isnt all its cracked up to be or maybe they were in an insane rush to fill orders. Regardless, it was not as advertised on the videos and pics on the website. I am overall very happy with the purchase and I will shop here again, I will just be very careful what I order and what is said to be done to it in house. No Hard Feelings Grayson, I know that these issues arent that big of a deal, but when you dish out a few hundred dollars somewhere I want it right the first time. (Posted on 3/25/2017)
Had to wait a little while to receive the Wizard but Grayson hobby did a great job tuning it. It was a great first experience all around. Grayson hobby made it simple to Use.Their videos were very helpful. Will definitely order from them again. (Posted on 3/24/2017)
The wizard is a tank an the guys at Grayson Hobby did a great job with the gold tune... The stock props are very fragile but Dal props perform great on this quad...I look forward to doing more buisness with Grayson (Posted on 3/21/2017)
My wife bought me the Grayson Gold Tuned RTF Wizard and it's amazing, especially for the price! Definitely saved me the hassle of researching, tuning, etc.. and just got me into the air as quickly and headache free as possible. Don't get me wrong, I still want to learn more about tuning and building quads(maybe my next quad), but for now my main focus was to get the Wizard into the air as quickly as possible, and with the Grayson tune, it's super stable and fun to fly right out of the box! Thanks guys! (Posted on 3/20/2017)
Couldn't have asked for more the wait was not that long, and the product works flawlessly. I have flown the beasty machine several times now. AND can i say this drone is extremely well built, for durability, looks, extra sets of props, components such as bh heli's, and lastly how docile and fast this awesome drone is. It is a little over priced, but its bang for the buck. Since there are many manufactuers that send the wizard in just horrendous conditions, but for the Grayson hobby guys, they also take the extra mile to actually, check, fine tune, and upgrade all the components on the wizard. My final review is that it is the greatest bang for the buck!!
(Posted on 3/13/2017)
Couldn't ask for more. Everything is as advertised. (Posted on 3/6/2017)
Very happy with my purchase going thru them even thou I had a slight error with a item I received, I still highly recommend this place. Shipping is fast when products are ready and their staff really makes quality a priority. (Posted on 3/4/2017)
Awesome product that has been quality checked before delivery. So much less hassle than other people are having when buying this drone from faceless retailers. I had a warranty problem and it was resolved extremely fast by people I can talk to. (Posted on 2/27/2017)
Great service (Posted on 2/27/2017)
Perfectly tuned for an intermediate flyer. I can leave it in horizon if I get freaked out going to fast. I've only flown single rotor until the wizard. I chose the gold tune and im glad I did. Will is awesome to deal with. So is Basil. Thanks for everything. (Posted on 2/25/2017)
This thing does it all. Be careful, though - not for beginners. (Posted on 2/22/2017)
I'm a noob when it comes to quads. This is my first one, so I thank you guys for setting up the quad otherwise I would be lost. It's just literally plug in and fly. (Posted on 2/21/2017)
Well i bought this after watching their youtube videos and i must say i am quite dissapointed with my purchace.
I bought the gold setup and the first thing inoticed is that theee was no fibre washers on any of the motors.
And the camera picture is poor, on further investigation i found the tx to be faulty and i have had to purchace a new one i have not even flown it yet and it has cost me more money.
To say i am dissapointed with it is an understatment. (Posted on 2/18/2017)
This is my first ever serious quad and it has been so much fun! I chose to go with Grayson Hobby after much research on the Wizard and seeing sooooooo many people (on YouTube, Reddit, Facebook groups and web forums) having problems because they cheaped out and bought from other sellers here in the US and abroad. Luckily while browsing YouTube I found Will and Basil, who explained they personally go through every quad and make sure that each and every one is TRULY RTF (Chinese stuff is world famous for not being quite right). While many others online have quads that just won't fly, are missing parts or worse yet catch fire?!? I have been flying mine since day one and, having a blast! I opted for the Gold Tune on a whim and again, I am extremely glad I did. While out flying at the local park I met a more experienced pilot and decided he was a solid guy so I let him give mine a whirl just to get the point of view from a more knowledgeable flyer. His comment on how well it was dialed in couldn't have made me happier because I knew I had made the right choice. Will and Basil are amazing and always there to help a super n00b like me out. 10/10 (Posted on 2/17/2017)
Opened my Grayson tuned wizard few days ago. Been flying it for two days and it's honestly my first two FPV flights & im flying over trees and around them. It's a very stable platform. My only knock on the Wizard is the camera. But I will replace that with the Runcam Eagle. Thank you for your excellent tuning Grayson guys. (Posted on 2/14/2017)
I hate putzing around building mini quads. I really do... BUT I like flying them. So I bought this after seeing rave reviews on Youtube by respected reviewers as a shortcut to getting something flying in a quick amount of time. I also bought it from Grayson because a) they test each one, and b) they will tune it for you which normally is a tiresome tedious amount of work. All I can say is wow!, It's great! Yesterday myself and a friend maidened it (previously just hovered it) and had 0 issues with it. Yes the radio has a "Tyco" feel to it but works great. We did swap the stock camera (it's adequate) for a Runcam Swift and the antenna to a circular polarized one but everything else was stock including the custom Grayson gold level tuning which I have to say was very very good. It feels locked in with no apparent PID changes needed. One word of caution.... I wouln't recommend this as a first quad. It takes some acquired skills first. Anyways great job Will on the tune and Grayson for providing the little extras! A wonderful buying experience! (Posted on 2/12/2017)
Drone is first class but does not come with any instructions. You have to figure everything out for yourself. Grayson Hobby put a gold package tune on it for me but did did not tell me what a gold tune was. Still trying to figure everything out. (Posted on 2/10/2017)
wizard worked great thanks for all you guy do, have fun in life i see you guys real soon (Posted on 2/10/2017)
This is my first racer that I bought from Grayson Hobby. I had to do the gold package. Funnest drone I've ever flown. It's setup great. Easier to fly than I thought it would be. I ordered a Falcon Pro from bang good previous to buying this one. That's stupid thing is supposed to be ready to fly and it doesn't. Wish I knew about Grayson before I bought that piece of crap. Thanks Grayson Hobby. You can count on my business in the future (Posted on 2/10/2017)
I have a history of flying several toy grade quads and some with FPV. I felt confident that I could make this leap. I chose Grayson Hobby because of their informational videos as well as there quality control and tune up. I couldn't be happier. The wizard arrived after a short pre-order wait but was worth it. It was stable right out of the box and easy to get in the air. My first session was LOS with several packs and then using an Eachine EV800 goggle I ran through a pile of packs and found it amazing and speedy. (even on 3s) The FPV with the supplied antenna is really quite good but I look forward to upgrading to a better antenna.

If you chose this - I agree with Grayson Hobby that you need to train on other quads for a while and choose a less powerful quad first. If you fly this into yourself or someone else you will see some injury.

It does come with several props which is good but they are not the best and I did replace one after a rough landing only to have the new one throw a blade off on its first flight. (A quick flip of the switch back to stable mode and I could still fly it in no problem) The supplied battery is is rather weak and overly big. It takes up all of the space on the top of the quad. Save that to power something else and get some better batteries. The supplied charger is also pretty poor. while charging through the balanced lead is simple and easy it is so so slow. Grayson has a pile of battery, charger and prop options.... I can't wait to beat this thing up and learn how to fix it before I build one from the ground up... Have fun.... (Posted on 2/9/2017)
You guys are great to watch, oh the knowledge. (Posted on 2/7/2017)
so far is an excellent beginner intermediate quad. easy to work on.
some issues that i had was too much wiring solder in places that is not required and my wiring for my vtx was swapped with the cam wiring. but at the end of the day a good quad to have fun if you want to start on quad racing. (Posted on 1/22/2017)